Email Marketing Systems at a Fraction of the Cost of MailChimp, ConstantContact and others
Email campaigns are now a standard communication tool that can complements any online business. Being one of the specializations of The Northern Office, email marketing can be efficiently utilized to reach business prospects, generate leads and disseminate information to a targeted audience.
However, with the new anti-cybercrime laws around the world and the anti-spamming initiatives being taken everywhere, there are new regulations that every commercial enterprise must observe and follow. These insist on strict compliance when sending out commercial emails. The Northern Office advises on how to ensure that all your emails follow these laws and regulations globally. Is your email marketing provider legally compliant when it comes to online communications and database management?
All this at over 90% cheaper than your current email campaign management software service!
Mass Email Marketing - Enterprise Technology for SME's
The Northern Office consults and advises on email campaign management and email gateways services best fits your company. All email campaign managment systems we set up for clients surpass the design and list management limitations off-the-shelf email marketing systems have.
The Northern Office Email Campaign Management System offers:
Guaranteed high deliverability
IP and domain reputation protection
Customizable HTML (graphic) email with text only options
Web based email
Full reporting with Google Analytics integration
Multiple subscription lists
One click unsubscribe/re-subscribe
Flexible list management and data collection
Hosted and non-hosted options
Multiple SMTP gateways
Send News, Updates and Promos to All Your Customers!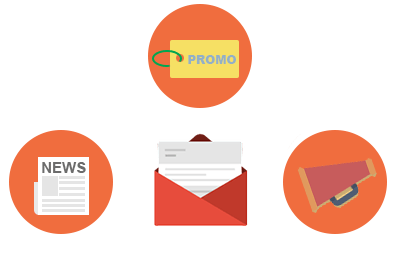 The Northern Office helps you design email campaigns, create and edit content and manage email lists. We will assist you at every step of the way from setting up customer list and databases, to the final layout and content of the email.
Email Reputation and Management
An email must not only look good, but it should also be trustworthy or it'll end up in the spam folder. Our Email Management Suite, uses a sophisticated system that checks frequency of email sends, email infrastructure, bounce rates and more for better overall delivery. The Northern Office also offers email "list cleaning" services for companies with unverified or older lists. We verify your leads through phone calls and test systems. Quality leads make for better sales prospects and we can help you make this happen.
---
It's all about targeting and closing the best sales opportunities for your company. Call us at (0)45 499 1082 to discuss your email marketing needs!